******The pricture and specifications are subject to change without prior notice. ******
******Any question, please confirm with our sales manager.******
Welcome to Boway
How to Choose Your Right Items?
Hot foil Stamping and Die Cutting
1. Creasing
PE Creasing , Notebook Creasing , Thermo Discolor Leather Creasing , Aluminium-plastic Panel Creasing , Hardcover Creasing ,
Creasing and Keep Press , Creasing and Keep Press to Color Change ,etc.
2. Die Cutting
PVC Die Cutting , Linen Die Cutting ,etc.
3. Hot stamping / Bronzing
PVC Hot Stamping , PVC Overlay Hot Stamping , UV Surface Hot-stamping , White Board Hot Stamping , Packing Box Hot Stamping ,
Notebook Hot Stamping , Adhesive Sticker Hot Stamping , Gloss Film Hot Stamping , Aluminium-plastic Hot Stamping , Brown Paper Hot Stamping , Wax-cloth Hot Stamping , Rubber Hot Stamping , etc.
4. Embossing
Embossing and Hot Stamping , Operating Panel Embossing , etc.
5. Branding
Wooden Board Branding , Foam Branding , Flannelette Branding , Wooden Box Branding

Model No.

HSC-568II-8T

HSC-568II-15T

HSC-568II-30T

Bronzing area

510mm*390mm

590mm*440mm

780mm*540mm

Worktable area

780mm*490mm

880mm*540mm

980mm*640mm

Stroke of the worktable

160mm

200mm

250mm

Max working eight

100mm

100mm

100mm

Bronzing pressure

1-8T

1-15T

1-30T

Temperature control

1-300

℃

1-300

℃

1-300

℃

Airsupply pressure

0.8-1.2mpa

0.8-1.2mpa

0.8-1.2mpa

Power

4800w

5800w

7800w
Optional items :
* HMI electrical control system
* control system of the automatic moving in and out of the worktable
* footswitch & safety light screens electrical control system
* ordinary electrical control system
* manual control system of the moving in and out of the worktable
* double touching button switch control system
* beehiveboard.boardlock

Hot Stamping and Die-cutting Machine Performance Characteristics:
1. It adopts the German technology---air over hydraulic reinforcement driving system so that we can make two-stroke and three-stroke free switching. It is energy-saving and high efficiency.
2. It adopts imported main driving linear guideway, the worktable follow the linear guideway to ensure the high-precision motion of the machine.
3. It has a versatility of bronzing and die-cutting many materials and different types of products.
4. It can adjust the holding time and pressure of bronzing to achieve many results. It has a wonderful result of bronzing embossment and heavy pressure mark.
5. The worktable can move in and out automatically. The automatic speed and automatic continuous work can both be adjusted. Safety device is equipped so it is safe and reliable.
6. Electrical system is designed according to CE standard, the latest HMI, digital control, easy to operate and can be upgraded.
7. The foil length and step numbers can be adjusted as you wish, the bronzing foil has a high utility factor. The foils are sent by two groups so the work efficiency is high.
Trading Terms
Terms of payment

T/T, L/C, Westion Union.

Terms of trade

FOB, CFR, CIF

Mode of transportation

By Sea, By Air

Port of shipment

Shanghai or Ningbo

Rerfence date of delivery

About 15 days, Instant supply

of hot-selling products
About Shipment
Certificate of Fumigation

√

Certificate of Original

CO, FORM A, FORM F, FORM E etc.

Guarantee customer to import goods

at the preferential tariff rate

Certificate of Inspection

√

Documents Authentication

√
I. Agents Tranining
II. Warranty
We provide one-year limited warranty for all machines from the date of purchase
1. Our warranty covers only those defects which arise as a result of normal use of the product, and the bellows not apply to any:
u Improper or inadequate maintenance
u Misusage and mishandling
u Damaged by a wrong voltage use
u Physical damage(for example, dropping the parts on the floor or into water, broken case, etc)
2. What is the repair, exchange & refund policy?
Exchange and refund only on big defective units (beyond repair).For buyers' used machines, we only can support repair service.
Repair: We provide free spare parts (just include the main board and motor) within the warranty period. Buyer should provide serial number and photos of defective machines, but buyer should pay the shipment charges and return us the broken parts.
Exchange: If you reported problem to us in one month on arrival of the machine, we accept the exchange. Buyer needs pay the ship back sea freight and the sea freight for new machine.
Refund: If you reported problem to us in one week on arrival of machines, we accept the refund, but we only refund you the payment after receiving the returned goods.
3. What about when one year warranty over time?
We still offer the repair service to you when the warranty time is over, even we can offer you the repair service in the whole life of machine.
4. How to support you when you purchase our machine in first time?
When you meet the problem of our machine under the situation that you are not familiar with our machines.
Do not worry, we can offer:
u User Manual in English
u Operation Video
u Support on-line
u You can send your technician to our factory to attend the skill training.
Customers and Us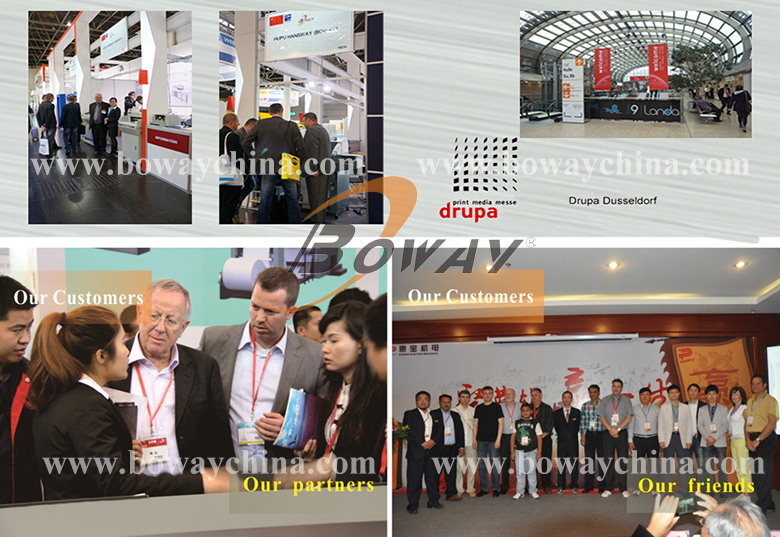 FAQ
1.What's the product range?
Post press machine,such as Perfect glue binder, paper cutter, Roll laminator, UV coator machine and some small office equipment.
2.Are you a manufacture?
Yes, we are in Hangzhou which middle of shanghai and Ningbo
3.What is the minimum quantity for order?
5 pcs or 10000 USD for order.
4.Do you have stock product to sell?
Maybe , It's depend on which machine ,you like?
5.Do you inspect the finished products?
Yes, Each step of production products will be camed out inspection by QC department before shipping.
6.How do you ship the finished products?
By Sea
By Plane
By courier, TNT , DHL, Fedex, UPS Etc
7.What's the Payment term?
Payment term: T/T before shipment.
We accept payment via the Paypal /Western union/TT, you can choose as you like.
8.What's the delivery time?
Within 15 days after get the payment
HSC-568II-30T automatic worktable UV Surface hot foil stamping machine