日本の痩身フラットおなかティーoem減量グリーンビューティーヘルス & メディカルデトックスドリンク日本製可能プライベートラベル
| | |
| --- | --- |
| 港: | Nagoya Port, Chubu Centrair Airport |
| 支払い条件: | T/T,PayPal |
| 供給力: | 10000 パック / Day |
| 年齢: | 新しい |
| 製品タイプ: | 緑茶 |
| 原産地: | 日本 |
| 包装: | 袋,箱,大きさ,ギフトのパッキング |
| 重量(kg): | 5.7 |
| 特殊性: | 健康の茶,ダイエットティー |
| タイプ: | 混ぜられた茶 |
| 貯蔵寿命: | 2年11か月 |
| 重量 (kg): | 5.7 |
| タイプの処理: | ブレンドされた |
| 賞味期限: | 2年11か月 |
| グレード: | トップグレード |
| モデル番号: | BG-9 |
| 様式: | 袋に入れられた茶 |
| 銘柄: | 昭和制薬 |
| 等級: | トップグレード |
| 認証: | HACCP,医薬品gmp |
| 包装の詳細: | H205mmxw675mmxt470mm強化段ボール箱に安全に梱包 |
Japanese slimming flat tummy tea oem weight loss green beauty health & medical detox drink made in japan possible private label
Green tea blend for Beauty and Antioxidant 
Having green tea using of excellent ingredients containing beauty and antioxidant benefit scientifically is surely helpful for you. Besides, butterfly pea is used for this tea. It is made from a variety of ingredients that have benefit of beauty and antioxidant. Due to the blend of all ingredients, the bitter taste , peculiar taste of green tea is successful to be removed so that you can enjoy the palatable beauty tea.










Healthy benefit & How to make a tea
Always use fresh water, pour it over the teabag while it is  still boiling and brew for 2 or 3 minutes. You can adjust the time as you like.
Ingredient

Net content

Item/1teabag(extract)
Concentration(per 200cc)


Green tea

2.0g×14 teabags

Calories

0kcal

Fenugreek seed

Protein

0.2g

Chamomile

Total fat

0.0g

Brown rice

Carbohydrates

0.0g

Butterflypea

Sodium

2.0mg


Tea made by No.1 blender & awarded process

Get more advantages based on FACT

The tea should support and boost your product benefit or add your ingredients into the tea.
Moreover, Introduce "made in Japan" best quality product to your consumers
It means your will get the more credit from them.
No one can imitate the tea taste because of our awarded heat sterilization process.
It is naturally process to make the taste & aroma much better.
And your consumers will have a cup of tea with relief and safe. 



Heat sterilization is 100% natural processing

Prevent from
- Losing best flavour soon
- Quickly decaying the tea
- Additives to sustain the best quality etc


All ingredients is grown naturally, effected by the weather, humidity, sunlight, raining, and etc.
Therefore, it must be quite difficult to keep the best taste and flavour continuously.
We can change the degree to heat sterilization process all of each ingredients by each ingredient condition, each the day condition, humidity rate, weather.
This is the artisan skill to possibly provide the stable, enjoyable , and best taste and flavour of teas.
The shelf life is also 3 times longer than the other dried teas.
The reason is below information.






Why need heat sterilization process for tea?
Our roast skill for the taste, quality, relief, and safe
Teas are generally processed (into teabags) as they are.
At the point of ingredients, the moisture contains around 10% and make itself less taste, aroma, and quality.
『 Taste, quality, Relief, safe 』 are pursued.
Manufacture to sustain the best quality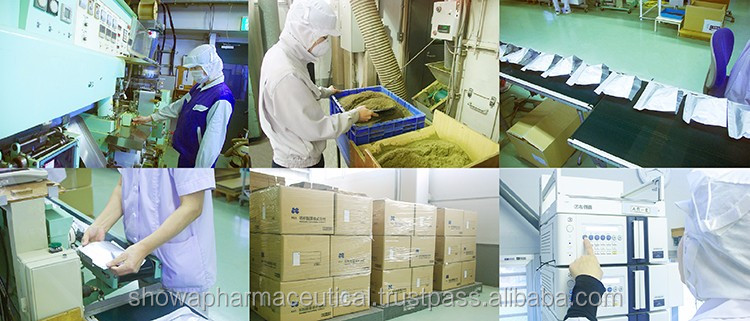 Why called Japanese Quality
One by one, we are significantly strict of all products quality and cleanliness.
We thoroughly wash and sterilize every time.
All products are controlled by trace ability.
That's why we are able to keep it severe and guarantee as "Japanese quality"


Severe Examination & Analysis

| | |
| --- | --- |
| | |
| Agrochemicals residue | Undetected |
| Arsenic | Undetected |
| Heavy metals | Undetected |
| Caliform bacteria | Undetected |
Pharmaceutical GMP certified Factory
Agrochemical residue, Arsenic, Heavy metals, Coliform bacteria(All undetected).
OEM and Private Brand available
Arrange Ingredients what you would like,
package design, package type, package size, teabag type, teabag size