DORLON BEAUTY INSTRUMENTS
YOU CAN Find Your Perfect Hair Shears and Hair Scissors HERE
DORLON BEAUTY INSTRUMENTS sells a larger selection of hair cutting scissors and thinning shears
for the professional hair stylist than most other companies. We strive to provide
both quality and variety for Hairstylists to achieve any cut or style they require.
We manufacture and supply a vast range of Barber Scissor, Hair dressing Scissor, Thining Scissors, and Razor Scissors such as in Straight and curve in blade, with different material and finishing like we can provide scissors in High cabon Steel, J2 japenese Steel, 440c Steel, according to the customer choice we use these and also different coating, color spary coating, Powder Coating , paper coatings, Gold plated, Titanium/ Plasma Coating.


Material of our hair cutting scissors: We use high quality rust free 440c, Japanese steel, 410 type and carbon steel in our scissors.
Scissors with private labelling/custom branding: We offer custom branding on our scissors as well as packaging's.
Our scissors warranty: We offer free replacement on any manufacturing defect in our scissors.
Packaging: We offer attractive packaging's such as leather case, zipper bag, glass tube, pvc pouches in attractive colors.
Shipping: We use DHL, FedEx, UPS TNT for express shipping, we also offer other shipping sources such as air cargo and sea shipping for larger orders.
Prices/Discounts: Our scissors prices are very reasonable keeping the high quality standards, we also offer good discounts on bulk orders as well.
Our products: Beside hair cutting scissors we are also specialist in manufacturing cuticle scissors, nail scissors, pet grooming scissors, eyebrow tweezers, cuticle nippers, nail nippers, cuticle pushers, comedone extractors, blackhead remover kits, manicure and pedicure sets, we also manufacture tools as per customers drawing and specifications.
Quality certificates: We are CE, ISO approved company.
Minimum order quantity: There are no minimum order restrictions, you can place us order as per your wish.
Payment term: We accept PayPal, Credit Card, Bank Wire Transfer, Western Union & Moneygram.
Professional Barber&Thinning Scissor
Email: sales @dorlonbeauty.com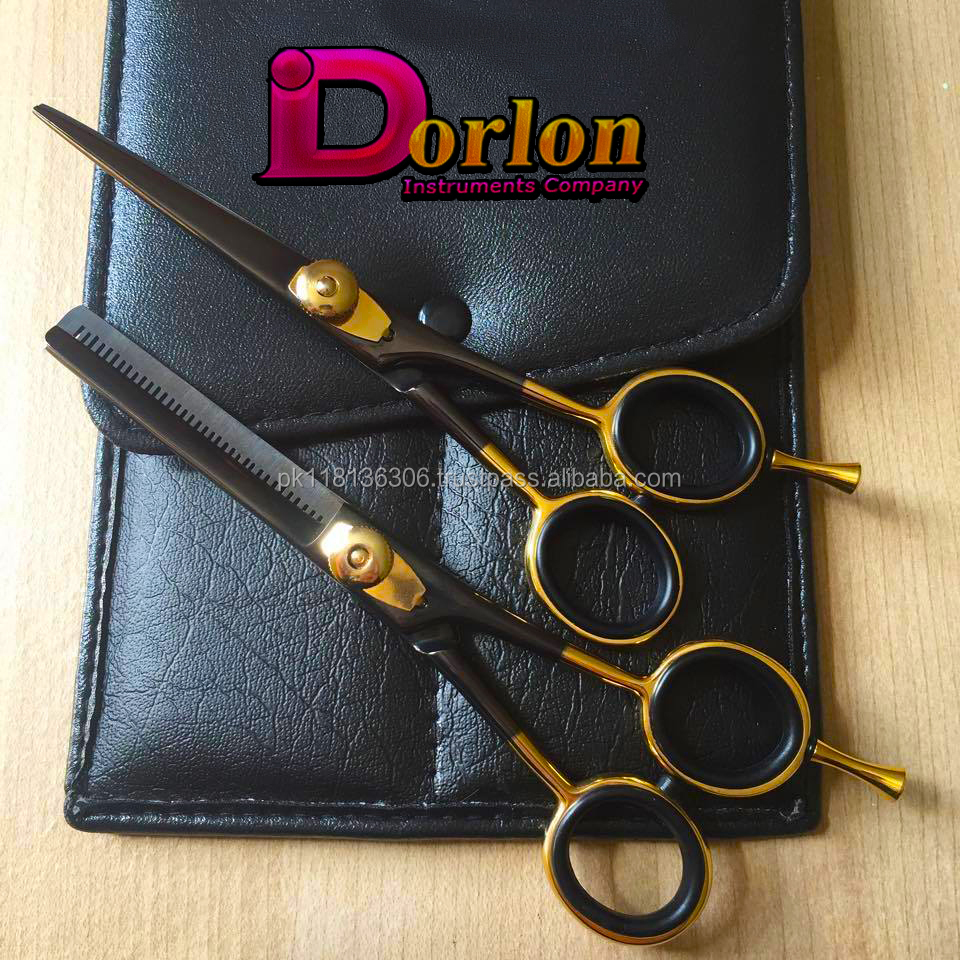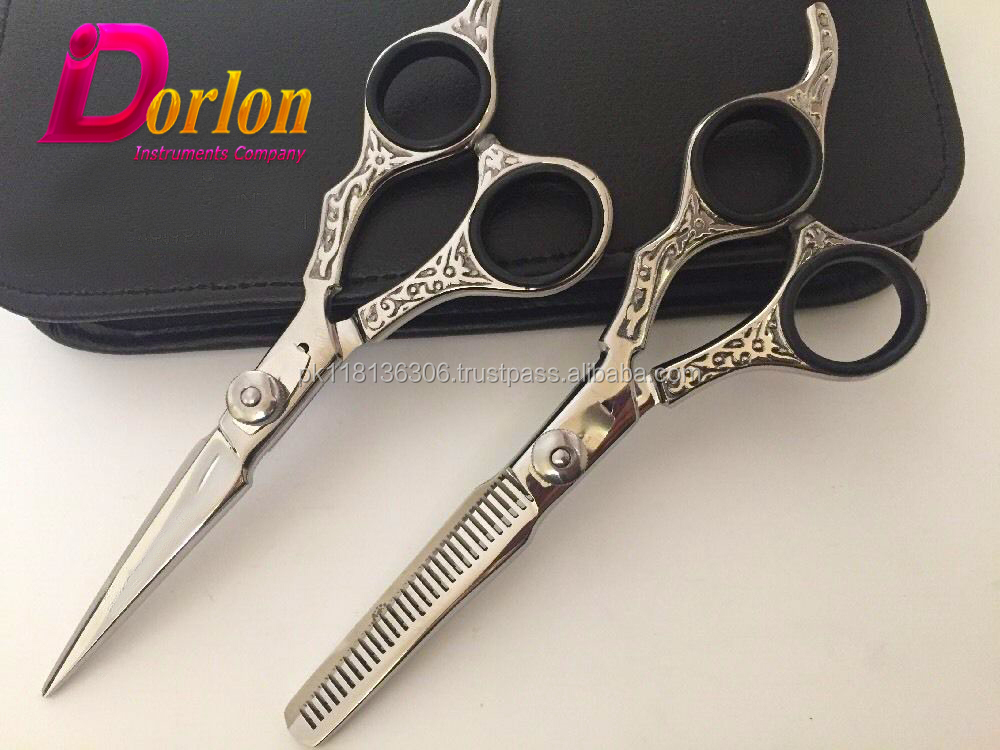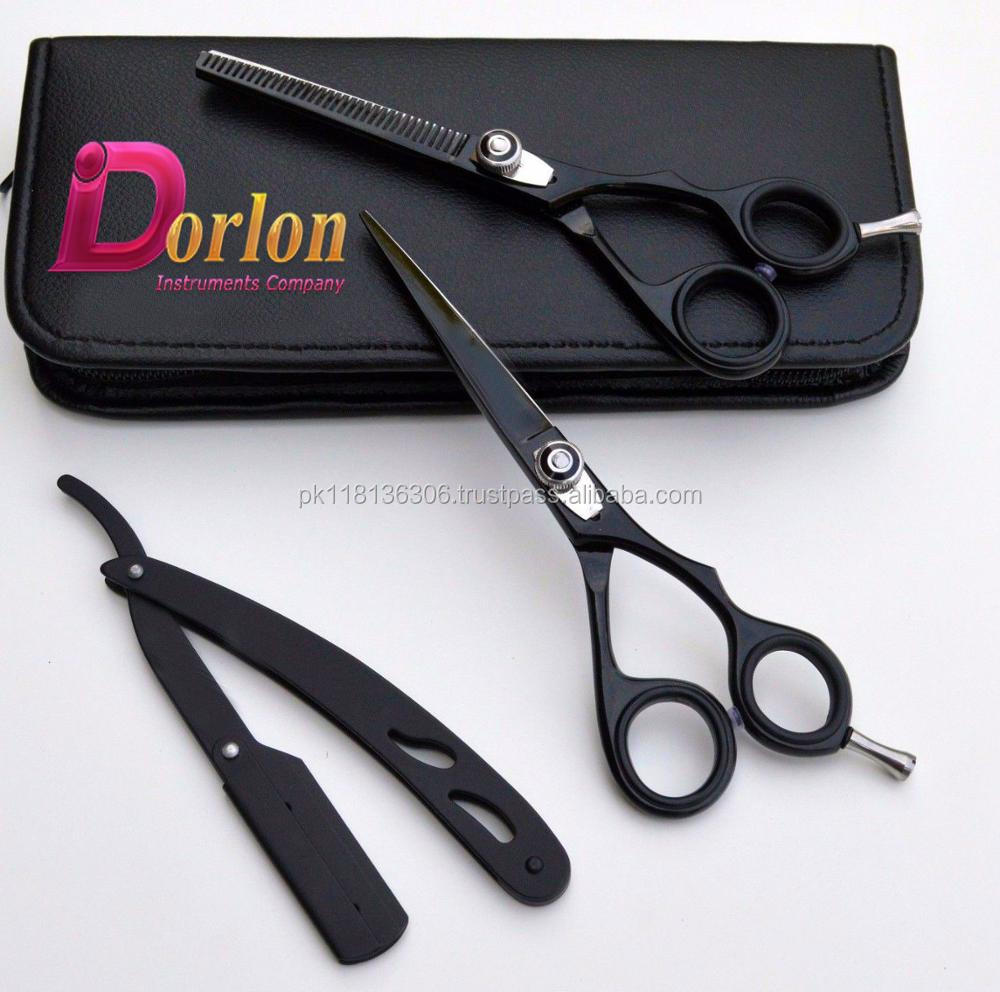 TRADING INFORMATION:
Samples Policy:
3 to 4 working days for samples producing time and 4 days for DHL or FedEx transit time.
Order production time:
Depend on volume of order.
Payment:
Paypal, Credit Card, Bank Transfer T/T, Western Union, Moneygram.
ISO 9001:2008 ISO 13485:2003 CE Certificates of DORLON: