Espresso Coffee Maker Type Coffee Machine coffee tools for pod
Model No 400 (for coffee POD)
* Aluminium with Copper Thermo Block system - can make coffee continuously;
* For E.S.E. POD or we would adjust the machine according to your POD;
* Special press POD design - without handle;
* Fashionable transparent water tank – satisfy the need of family daily use;
* Fully mechanical;
*15 Bars pressure - can obtain traditional espresso;
* Famous Italian brand pump - safety & high-efficiency;
* Fashionable transparent water tank – satisfy the need of family daily use
* POD coffee system can save 15% coffee powder then simple coffee machines;
* Removable Water Tank and Drip Tray;
*Small and exquisite appearance patent design - Very small size, design for home use;
*Innovated patented easy extraction system, we called it "EES", which can help to make coffee more simple, more easily, more suitable for ladies use.
*Patented Super Mini design, simple and faddish, may be the smallest espresso POD machine in the world.
*With very competitive price.
Enjoy the video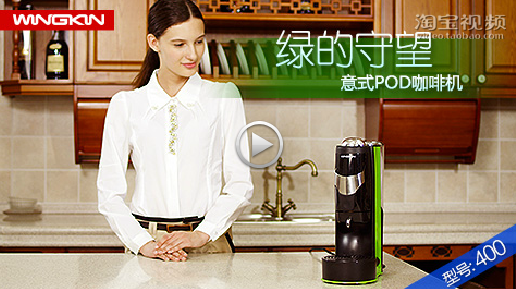 Jiangmen Wingkin Household Appliances Co., Ltd specializes in producing espresso machine and coffee maker. And we can also OEM and ODM the best products to you.
We are a professional espresso machine manufacturer. And each month, we are able to turn out 100, 000 units to meet all your volume orders, which is thanks to our spraying lines, as well as injection, stamping and testing workshops in our 19, 000 sq. M. Factory.
And please allow me to do some introduction about our R&D. Each year, 50% of our revenue goes back into our R&D...This allows our Italian designer and other engineers to offer you the latest features in coffee and espresso machines. And our Italian engineer has more then 15 years experience on espresso machine R&D.
For customized orders, send us your requirements or speak to our English-proficient R&D team directly. Contact us today to get your order started.
Key Words:
coffee machine,electric coffee machine,espresso coffee machine,espresso machine,stainless steel coffee machine,pump coffee machine,Espresso & Cappuccino Coffee Machine,coffee set, cappuccino machine, Italy coffee machine, expressso machine,Fabricant du café/ Machine du café, Macchina di caffè, Máquina de café, macchina per il caffè, máquina do café ,caffettiera, machine à café5