Slim and Stylish rubber packing portable
deodorizing trash bin with handle
for reducing odors ,
with washable inner box
For other products and company information please consult our website below. cruet
Company website : http://www.risu.co.jp/en/index.html
Deodorizing everywhere
Deodorize well with sealing lid lock
Carry everywhere with handle
1. Inner rubber packing prevent odor-creating seepage
2. Keep cleanliness with washable inner box
3. Deodorize well with sealing lid lock
4. Easy to carry and move with handle
For garbage at kitchen sink drawer
For temporary storage of dog food
For storage after using diapers
Slim and stylish form suit for every where
Details
| | | | | | |
| --- | --- | --- | --- | --- | --- |
| Item Name | Product Size (mm) | Quantity (pieces/per carton) | FOB | Packaging Size (mm) | Packaging Weight (kg) |
| Portable deodorizing Trash Bin 10S | 318x180x323h | 6 | USD10.36~ 11.45 | 650x530x335h | 7.8 |
Materials

body. inner box.

lid fastener. handle

PP

packing

foaming PE
Related product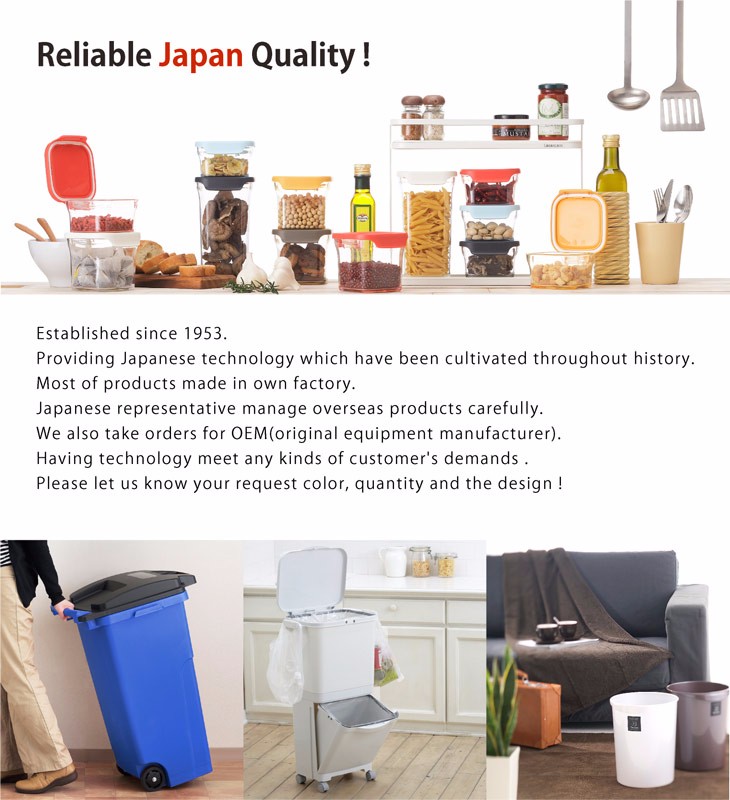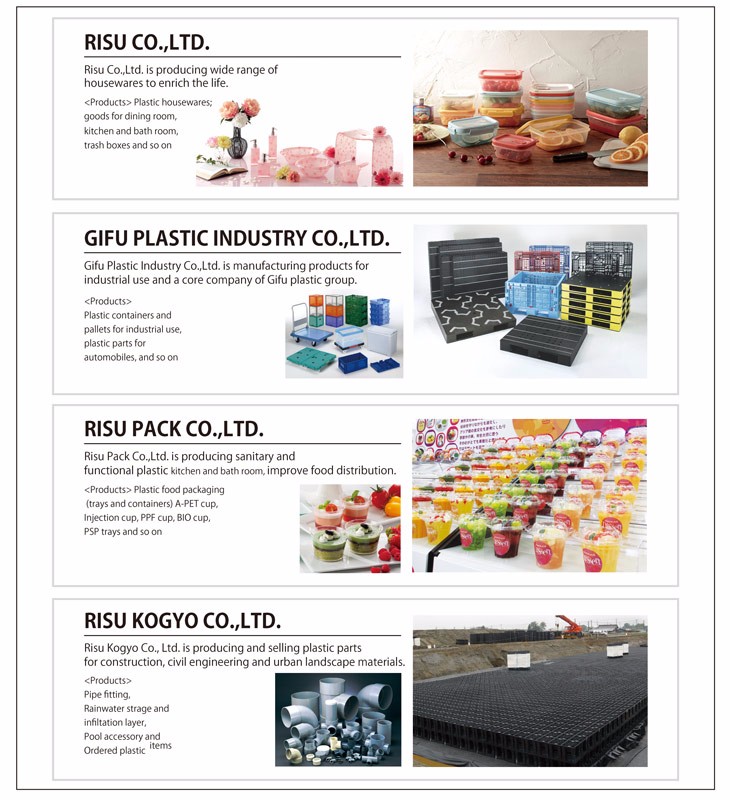 Our company's headquarters is an ecologically friendly office which minimizes the use of
lighting and air conditioning, with greening systems on the rooftops and west walls.
We strive to conserve energy and prevent global warming by reducing C02 emissions.
RISU CO., LTD. is one of Japan's leading daily use plastic domestic ware manufacturers,
and is part of the Risu group of companies.
In addition to daily use domestic ware, we conduct in-house development of a wide variety of
plastic-related goods including materials for logistics and distribution, food containers,
materials for construction and engineering, sports goods, materials for use in medical equipment, and so on.
Our motto is "The customer always come first". Our head office is in Gifu city.
We have branch offices in Tokyo, Nagoya, Osaka and Fukuoka, and 10 factories in various locations around Japan.
Possessing injection molding machines that range from small 20-tonne to large 4000-tonne machines,
we mold a variety of different products including household items, office goods, industrial components,
and materials for the logistics industry.