ZJT EPS Cement Sandwich Panel is a kind of lightweight energy saving wall material, which uses cement calcium silicate or reinforced calcium silicate board as face panel, filled with cement, Expanded Polystyrene (EPS) foam particles, and as core material and forming by one time compound.
Advanatges of ZJT Eps cement sandwich panel

1. FAST INSTALLATION AND FIRE PROOF
Our pre-cast wall panels feature a tongue and groove
design that reduces installation times, increases labor
efficiency and saves on costs. Electrical and plumbing
installations can be completed 5 - 10 times faster when
compared to using traditional hollow blocks.
FAHSTWALL panels were also tested to withstand up to
1,000°C for 120 minutes and compliant to the standard for Grade A Fireproof Materia

2. ACOUSTICALLY EFFECTIV
A 42dB sound insulation test result complies with the
National Insulation Test Standard GBJ121-88.
Minimal sound transmission and noise reduction are
accomplished due to the higher density and unique
composition of the wall panel material. This results in a
more comfortable and quiet environment without the need
to use any additional insulation products thereby saving on costs

3. Highly Seismic Resilient

The tongue and groove design of our wall panels are
attached and secured using a firm sealant and adhesive.
This transforms multiple wall panels into one sturdy wall
with impact resistance and bending qualities that are better
than traditional brick walls secured with ordinary cement.

4. STRUCTURALLY SAFE AND ECONOMICAl
The lightweight materials used in our panels are 1/6th the
weight of normal 120mm thick brick walls and 60% lighter
than traditional hollow blocks. This minimizes the load on
the beams and columns which equates to significant cost
reduction on the structural frame of the building.
Our panels are also moisture proof, water resistant and
ready for painting as soon as they are installed and joined
using our firm sealant and adhesive

5. .THERMALLY EFFICIENT AND GREEN
The ZJT WALL system is much more thermally efficient
in heat absorption and dissipation due to its density and
the materials used. This results in a cooler interior
environment and cost savings from reduced air
conditioning usage.

Our wall panels comply with the Standard of Radiation
Hygiene and Protection of Building Material (GB6566-86)
making them environmentally friendly and safe.
4.Why choose our compound sandwich panel?
| | | |
| --- | --- | --- |
| | features | more detail |
| 1 | green | 100% free of harmful substances and are of A non-radioactive products, standard GB6566-2001. |
| 2 | lightweight economic | The volume-weight only 750-800kg/m3 , the weight of 75mm thickness ZJT board is 60kg/m2, equal to 1/6 of brick weight, 1/7 of 120mm thickness masonry. |
| 3 | increase valid space | the thickness of ZJT wall decreases 85mm by using 75mm thickness ZJT boards. Thus, valid space increases 1/m2 per 11.8mm. in other words, it can increase 6/m2 per 100/m2 . |
| 4 | moistureproof waterproof | will keep dry and leave no stains. During humid days, the boards will not condense water either. suitable to be installed in such wet areas as kitchens, bath rooms, basements because of its moistureproof and waterproof. |
| 5 | fireproof | Fireproof limit of ZJT boards is more than 4 hours and does not emit toxic gases under 1000 degree. The nonflammable performance reaches national A-class standard. |
| 6 | heat insulation | ZJT board is composed of special material to keep heat and thermal within a favorable condition. At same time, the ZJT boards are able to adjust moisture automatically and keep moisture at a balance level. |
| 7 | sound insulation | The raw materials of ZJT boards have good performance in sound insulation. ZJT board with 90mm thickness gains sound insulation of 42dB. |
| 8 | walls can be nailed and grooved | ZJT board can be grooved to have conductor arrangement or nailed to hang heavy object. The surface of ZJT board is smooth enough to make finisher processing directly with tile, wall trim and so on. |
| 9 | good integration | By using steels at the joints, the strength of walls is high enough to do partition in large story height and long span structures and it anti-seismic performance is several times higher than masonry. |
| 10 | easy and fast construction | It can be cut to adjust length and width at will. The process of installation is easy and fast, without the need of plastering. |
Notes: All kinds of panels can be customized by customers' specific requirements,such as density and length of panel.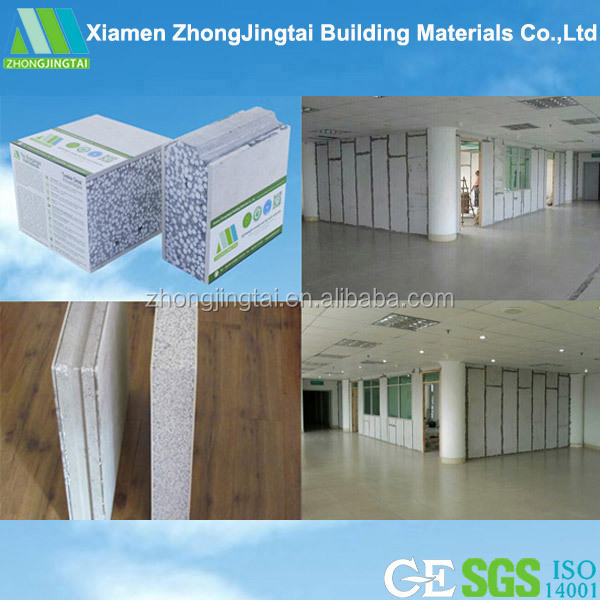 Application :
*All kinds of new and old building construction of indoor and outdoor decoration
*Indoor and outdoor decoration of office buildings, hospitals, shops, restaurants, bars and other public buildings;
*Interior and exterior wall decoration of family homes, luxury apartments, villas etc; *Particularly suitable for high-rise building exterior wall insulation decoration.
1: Your inquiry related to our products will be replied in 24 hours.
2: Well trained and experiences staffs to answer all your enquiries in fluent English.
3: Any your customized items we can help you to design and put into production.
4: Protection of your sales area, ideas of design and all your private information.
Xiamen ZhongJingtai building materials Co., Ltd, is a professional high-tech research and development company producing new wall materials, machinery and equipment development, technology production and promotion of product applications. The company is situated in the charming Xiamen city, with the convenience of water and land transportation and only ten minutes from the airport. We respond positively to the national policy on wall reforming. We have developed successfully wall panels that meet the energy saving needs of modern architecture.
We can produce more than 2 million square meters of various wall materials annually.
The light composite wall materials produced by us are environmentally-friendly, highly efficient, light, solid, thin, seismic resistant, good insulation, sound-proof, water-proof, fire-resistant , among other advantages.
We adhere to the "quality first, win-win cooperation" business philosophy and provide our value customers with strong technical support and package services. With our top quality products and credibility, we pledge to collaborate with our partners to thrive together while meeting the demands of the market. We are committed to contribute these superior and environmentally-friendly wall materials to the society.
ZJTpanel is a light weight interlocking sandwich panel. It uses to facing of 5mm thick fiber cement sheet with a low density concrete core consisting of a mix of portland cement, sil caceous&Micaceos aggregate.
Easy Installation
Rapid construction specifically designed for use in remote areas where labour force is semi skilled
Strong
Can be used for high rising building
Earthquakes Resistance
With materials that have been scientifically tested, makes ZJTpanel an Earthquake resisting wall.
Light-weight
Much more lighter compared than other bricks
Faster installation
without plastering and smoothy wakk steps, this product only need 1 day for 50m2 wall erection and in a half day time worker can paint the wall.