HANBANG'S COMMITMENT:
"Love & Rattan" is committed to presenting worldwide Chinese traditional unique rattan handicraft in modern leisure designs. Everything we do, we believe in bringing value and quality to our clients. We are always following the principle of "Good Quality Furniture at Competitive Price".
Product Overviews and Detailed Images:
2RAP608-16 2-Colour Natural Rattan Bedroom Sets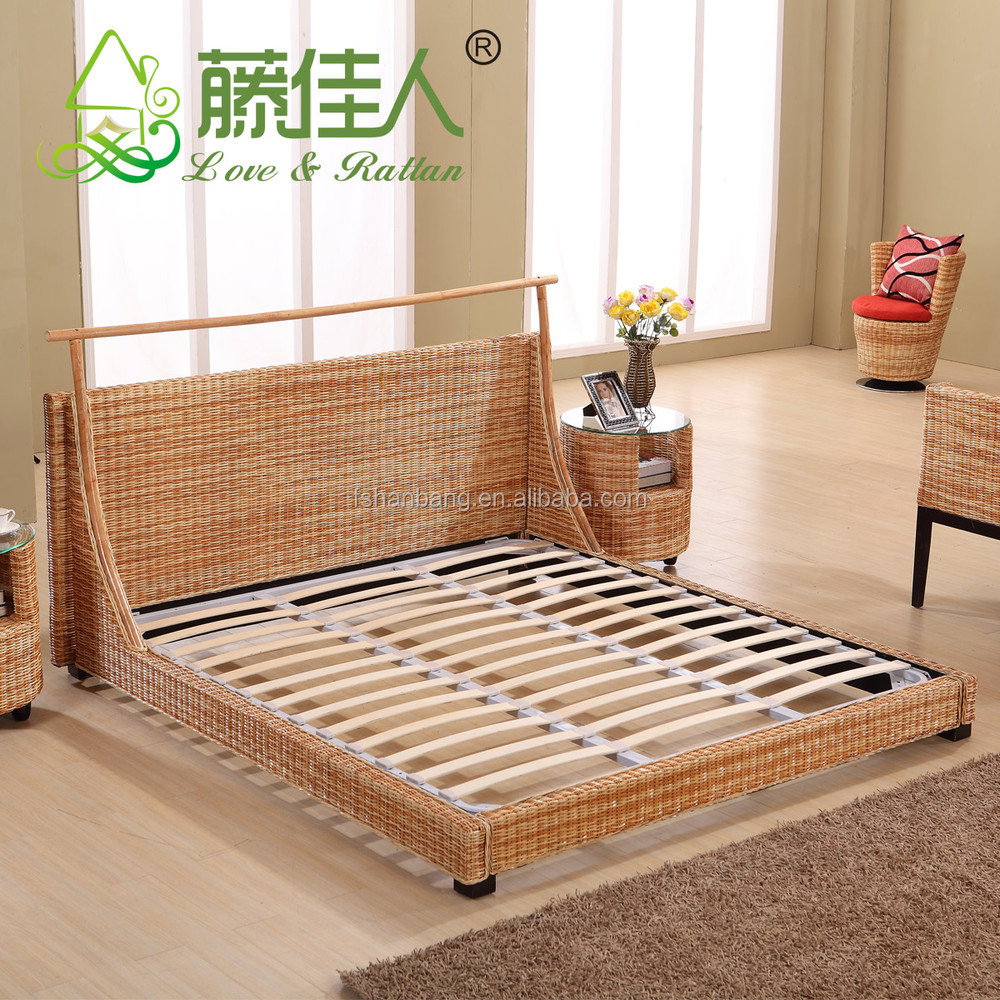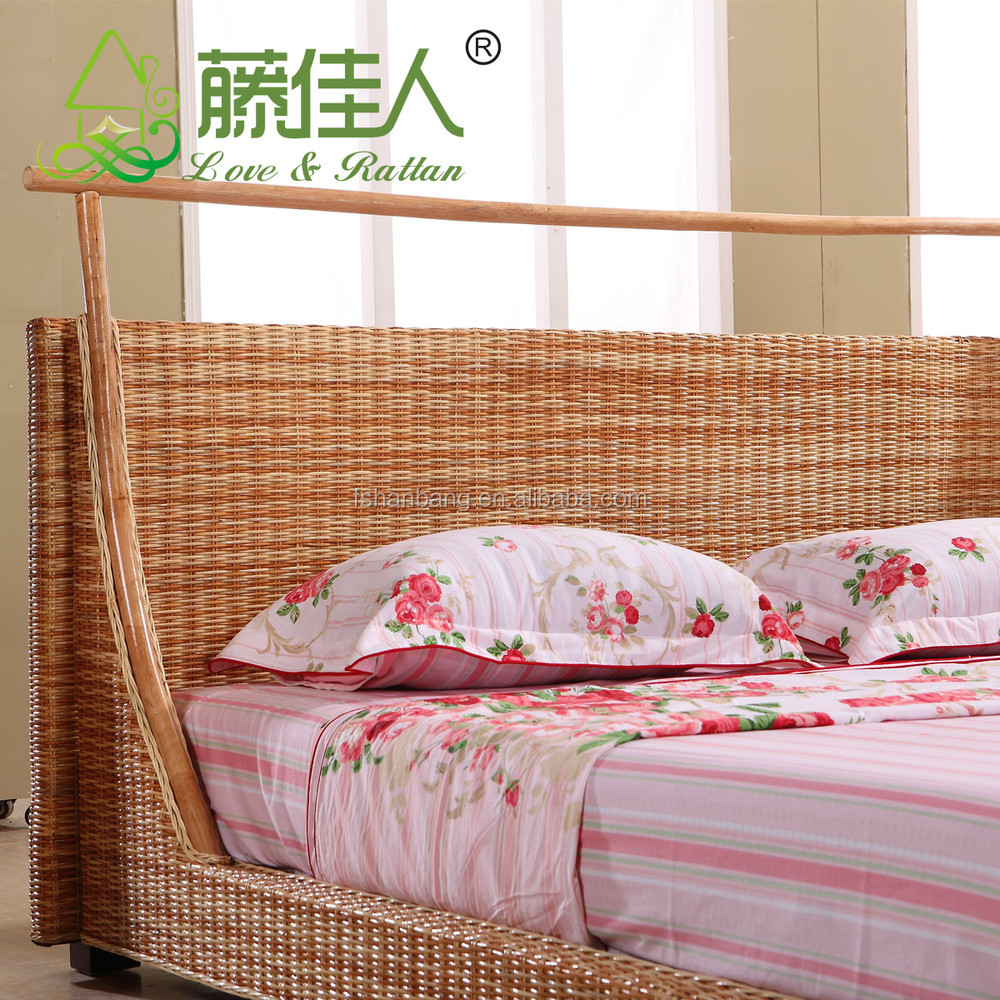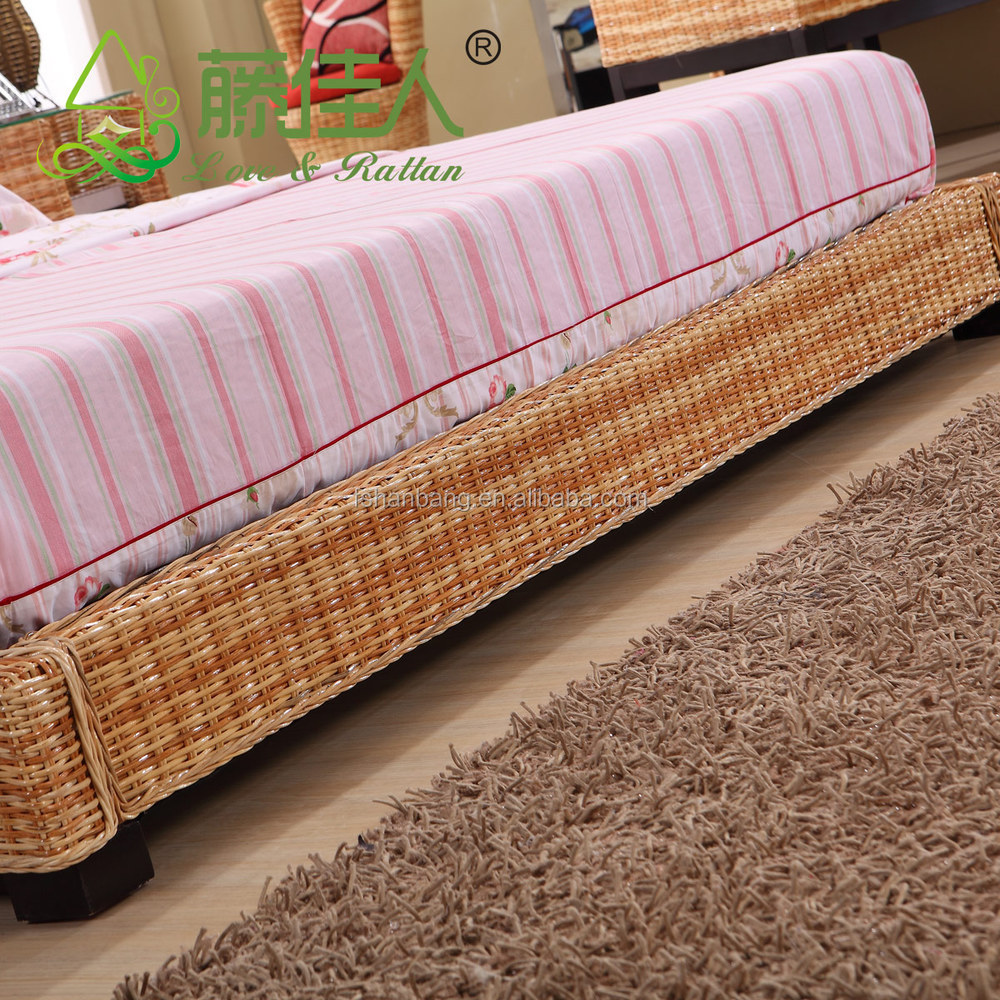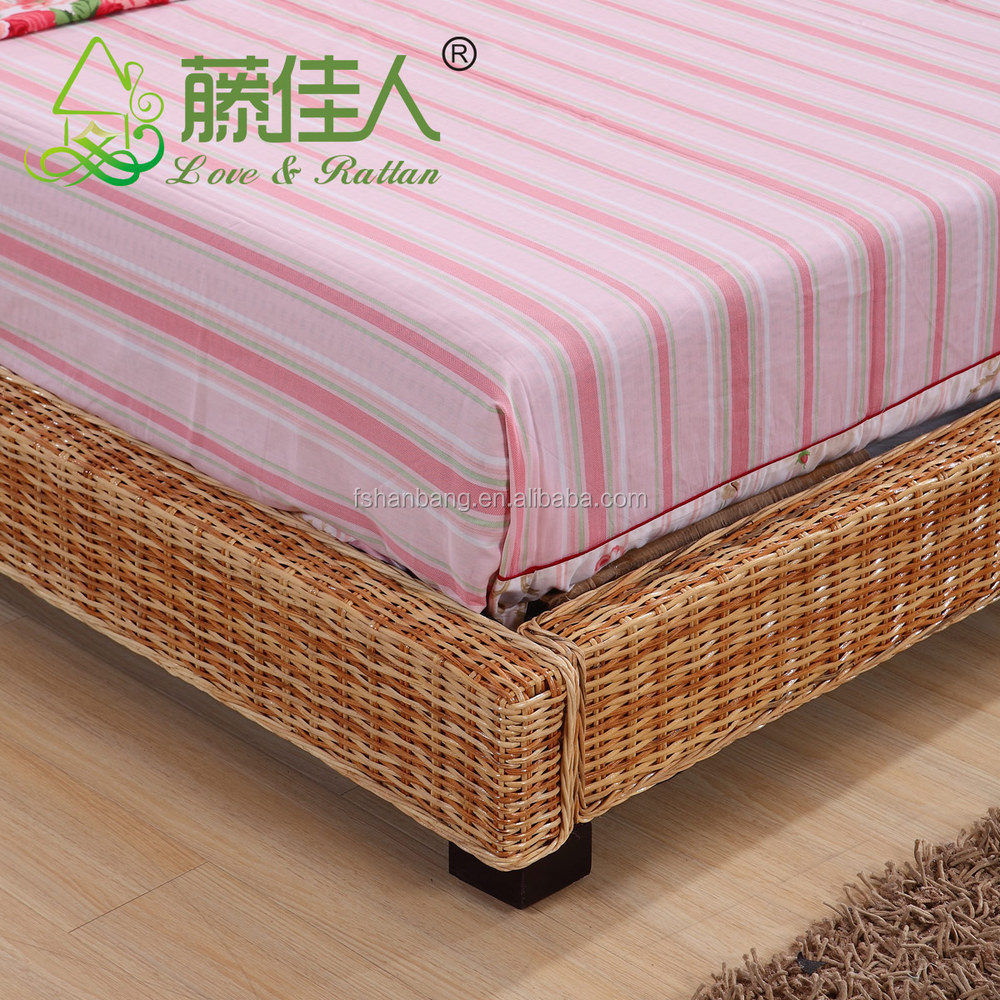 What are the materials?
This collection is woven by hand mainly with natural rattan or sea grass or paper rattan or ropes on wooden structure. Seagrass is strong because it's braided from many pieces into ropes before it can be used for weaving.
Rattan comes in different shapes. There are round rattan whip, rattan reed, etc. Seagrass (also known as water hyacinth) and rattan are the most common materials for weaving. Then comes paper fiber, corn strips, sisal rope.
Please select below at order From Our Woven Pattern C:
What's the size?
Our standard size is as illustrated in the picture or as specified. We make also sizes as per requirements of our clients. Or please contact us for our regular sizes.
What are the fabrics available for selection?
Please select below or please email to us for more options
1) cotton demin fabric:
2) linen
3) Down-proof Fabric
What's the application?
Our rattan furniture can be used for both indoors and outdoors. It's widely used in hotels, coffee shops, balconies, patios, sunrooms, living rooms, bedrooms, gardens, villas, near swimming pools, for leisure occasions, etc.
Hanbang Quality & Techniques:
a) Kiln dried solid hardwood frame, anti-worm, with moisture controlled between 12%-15%.
b) Natural seagrass & rattan, carefully-selected & properly-treated, absolutely no recycled materials
c) Tight and strong woven technique by skilled workers
d) Well-treated endurable skeletons
e) Low carton, eco-friendly finishing
f) Strictly-inspected piece by piece before delivery
g) Smooth feel finishing, no pricky & properly cleaned before Packing
h) Carefully and sufficiently packed for shipment
Recommended Furniture:
RWS9032 sofa set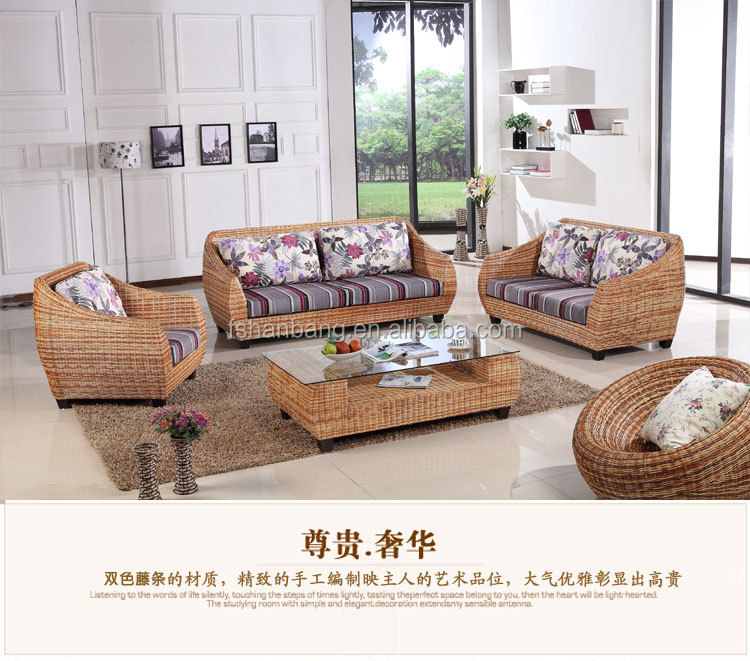 RWC0616-124 swivel chair 0616-167 table
2RAP9027-26B Study Desk with 338-13 Chair Sets
2RAP9028-13 Rattan Chaise Lounge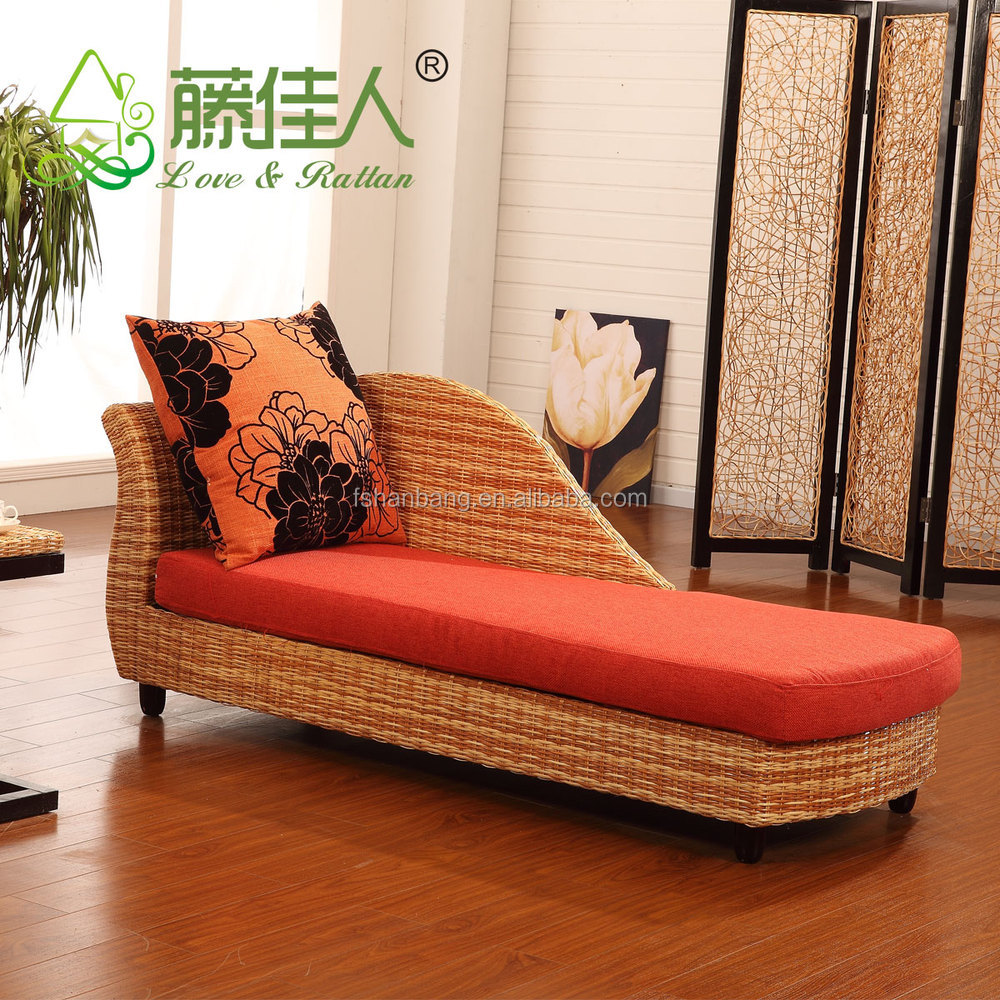 HB114-1 Leisure Sofa Chair with Coffee Table
Please click for MORE of this collection.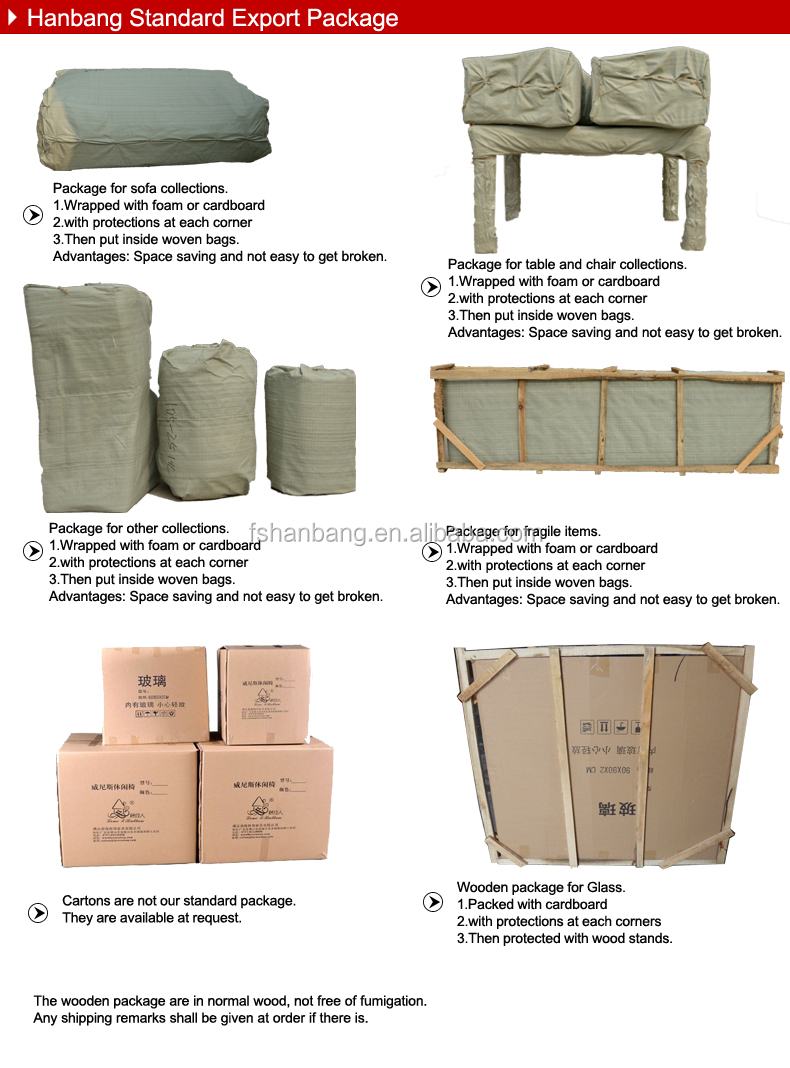 SHIPPING & PRODUCTION TIME:
1. For EXW terms, Buyer shall arrange for pickup from our factory in Foshan, Guangdong.
2. For FOB terms, we arrange for delivery to the closest port in China like Huangpu or Nansha, Guangzhou or Yatian, Shekou, Chiwan, Shenzhen, China as per international trading norms.
3. For C&F or CIF terms, we arrange for delivery to the destination sea ports of Buyers as per international trading norms.
Please always specify your order quantity and shipping terms you need at inquiries.
4. Usually 1 week for trial orders and 1 month for full container orders.
TERMS OF PAYMENT:
1. By escrow, western union, MoneyGram, or telegraphic transfer for small orders less than 5000usd/order and sample orders
2. By telegraphic transfer, letter of credit, documents against bill of lading for larger orders or full container orders.
3. All the bank fees or commissions charged by the 3rd party are on the account of buyers.
1.Hanbang Furniture is a verified gold supplier with more than 10 years' experience in export of various furniture from china. We do more than just products.
2. We have our factories in Foshan, Guangdong, that are invested and run by Hanbang with experienced and responsible factory directors.
3. We keep a good stock of well-received panel furniture with no minimum order quantity requirements for our regular models.
4. We set no minimum order quantity requirements for hand woven furniture for samples and trial orders.
5. We provide a wide and complete range of hand woven furniture and panel furniture for selection and OEM is accepted.
6. Our factories are closed to the well-known Foshan Furniture Market, convenient for loose cargo arrangement.
7. We have a professional team for exports. Prompt and accurate response could be achieved.
Sales Department, Workshops and Exhibition
Frequently Asked Questions (FAQ):
Q1.Could you please give a brief introduction of your company?
A: Hanbang Furniture is specialized in sales and export of hand woven furniture and panel furniture.
We have our own factories in Foshan with an occupation area of around 15,000sqm and around 150 workers.
Our factory directors have around 15 years'experience in production and our sales team are more than 10 years in export.
Q2: What is your minimum order quantiy?
A: We have no minimum order quantity requirement for hand woven furniture and stock panel furniture.
We keep a good stock panel furniture for China markets and for urgent shipments.
Q3: Do you accept custom design?
A: Yes, OEM business is welcomed.
Q4: How long does it take to reply to inquiries?
A: Usually within 1 work day.
Q5: How far are your factories?
A: Nanhai, Foshan,China, manufacturing center
Around 1 hour from Foshan Furniture Market by car
Around 1 hour from Guangzhou International Airport by car
Around 1 hour from Guangzhou Pazhou Complex by car
Q6: What's your guarantee for the quality?
A: Usually one year after shipment against manufacturing defect, but our furniture can be used for more than 10 years when properly maintained
Q7: What are your sales market?
A: China Market: 60%
Europe: 10%
America: 5%
Oceania: 5%
Asia:10%
Africa: 10%
Please email to us with your order quantity and your requirements for a good and efficient offer.